Data Governance
A staggering €50,000,000 is the largest fine to date that has ever been levied for a breach of The General Data Protection Regulation ("GDPR"). There have been over 250 fines issued since the implementation of the GDPR on 25 May 2018. Many of these fines have been issued for inadequate data security, and are completely avoidable with an appropriate data governance framework in place. The fines are public, causing embarrassment and irreparable damage to your brand.
At Intrepid Tech Ventures, we support you in developing a governance framework that is proportionate to your business and addresses the risks facing the business. We do not adopt a 'one size fits all' approach, but rather scope the processes to address the bespoke risks that your business faces.
Get in touch today, to review your existing governance framework or to implement a scalable environment that will grow in complexity in line with your business.
Data governance refers to the availability, usability, consistency, data integrity and security throughout an organisation, which result in a set of processes work together to ensure effective data management throughout the organisation.
We all collect data from our customers, suppliers and counterparties. How we use, store and govern that data . How we safeguard that data is the topic of the GDPR.
In regulated environments, the starting point of any reporting, is the assumption that the data is of high quality.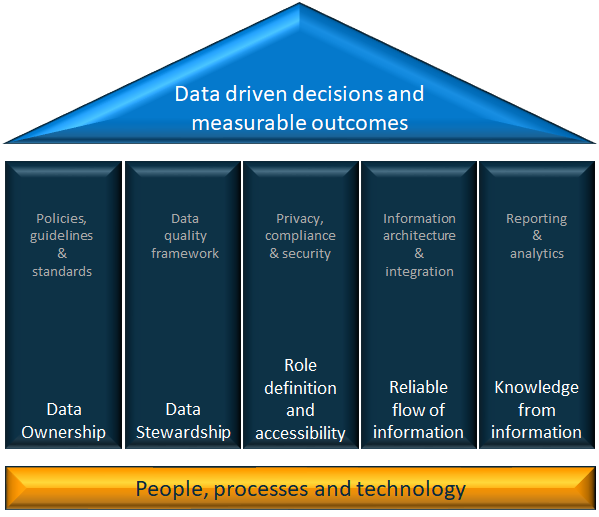 As a business, making informed decisions is supported by the data available. Having the appropriate governance framework is central to ensuring the quality and integrity of your data and therefore making sound business decisions.
Data Strategy
In today's business world, the use of data is key to how a business operates. Having a data strategy that is aligned with and embedded into the organisational strategy contributes to the success of any company using large amounts of data. We support businesses in understanding how to develop a data strategy that is appropriate for their business and how to embed this in their overall business strategy.
At Intrepid Tech Ventures, we work with Board's to develop an adaptable data strategy that can be flexible enough to support the needs across the organisation.
Board Support & Training
The Board's role in the organisation is one of Governance, and Direction. We are often faced with decision making where the risks of the options available are not completely clear or understood.
Kevin Sookhee can be your sounding board when making decisions or evaluating options for data generated risks or solutions. Kevin can provide advice by reviewing proposals for solutions, internal audit approach, and a steer to data teams where appropriate.
We also offer secondments into your organisation to fill technical gaps within a team. This could be across any stage in your data analysis and model development process or simply to support the work by your organisation to embed the necessary disciplines within impacted teams.
Intrepid Tech Ventures have also developed a programme to support Boards, Executives and advisors understand the new technologies being used and the implications of those for their business. Training can be delivered over a morning or afternoon, a day or 2 days and is designed to cover the main aspects that senior individuals of the organisation need to be aware of to be able to challenge their data science teams, and understand the risks and opportunities that lay within their data. The course is tailored to the industries in which they are presented.