At Intrepid Tech Ventures, we recognise that your brand is essentially your companies signature, and how important it is to maintain your brand's reputation. Globally, we are seeing a shift in the way consumers are responding to ethical questions, how their view ethics and to how their data is being used. Global regulatory bodies, such as EIOPA have taken a strong interest in ethical challenges when using AI, and will soon be building on their principles to develop some form regulatory framework.
The more your business uses consumer data for prediction, the more important it becomes to protect your brand whilst demonstrating that you have a model that is transparent, ethical and explainable, and that you have a suitable compliance and governance framework in place.
In April 2019, the EU issued 'Ethics Guidelines for Trustworthy AI'. The guidelines have four ethical principles making up their framework for trustworthy AI: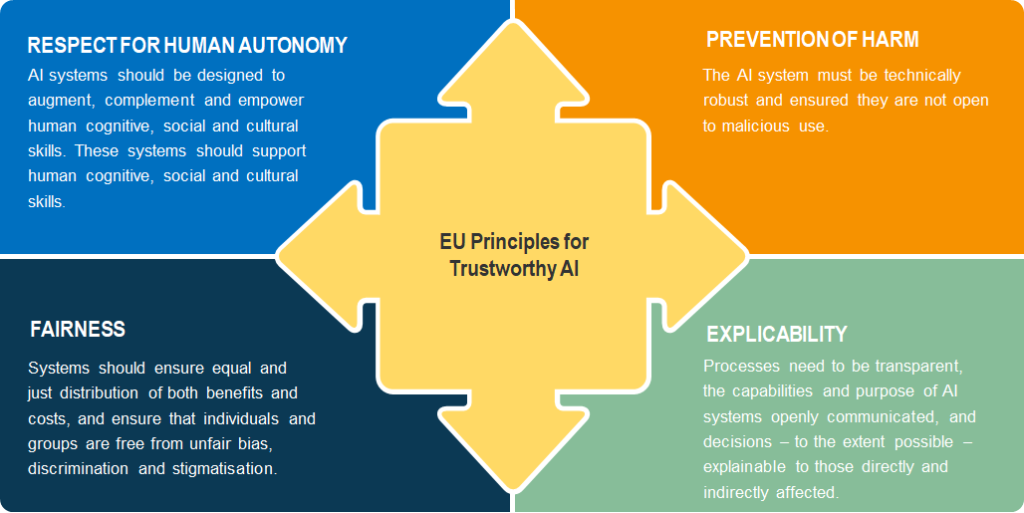 Our framework for Trustworthy AI
Ethics is key to building customer trust, regulator trust and a sustainable AI based solution for your business. We have developed a framework to assess data/ artificial intelligence solutions used by our clients against the EU ethical principles. These reviews demonstrate regulatory best practice and your interest in treating customers fairly. It also considers whether the way you collect, store and use consumer data is in line with the requirements of the General Data Protection Regulations.
"We believe that the foundation for any AI system is the Governance, compliance and risk management framework. Our approach to Trustworthy AI is built around this belief and can be tailored to suit your needs and the objective of the exercise."

Kevin Sookhee
We believe that the foundation of any AI system is the organisation's governance. Our approach to the review of your AI system is informed by your business strategy, values, and the significance of the system to your organisation.
Our framework for Trustworthy AI is a unique model that has been designed to assess the way AI is being used within an organisation. Its foundation is from the ethical principles issued by the European Union, with our unique framework for assessment against these principles.
Governance/ Compliance/ Risk Management Framework
The Board is ultimately accountable for your organisation's AI system. The way that this responsibility is exercised through your controls and processes, across the organisation and teams is key to discharging your responsibility. Your governance framework is the foundation of your AI system which is supported by your compliance framework and risk management processes. We review how these work together and how they address the challenges of your AI system. Where gaps exist, we feedback to the relevant individuals and discuss possible approaches and strategies to close the gap.
Model Integrity, Explainability, Bias & Ethics
We review the data sources and AI system you have in place and assess whether it achieves what it aims to do. We consider whether the results can be explained through robust testing and follow through.
We review the data sources used for bias as we firmly believe that if the data is not cleansed for bias, then the results of the AI system will perpetuate the existing biases in place. This could lead to consumer detriment.
We support you in developing the governance framework for your AI system, test your AI system, the results it produces and the data used against that framework to help the organisation have an AI system that is ethical.